So last night was my first CAPFabb event, which was hosted by
Rent the Runway
at American Ice Co. It was so great to see so many pretty faces, some new, some familiar, all fabulous. Here are some shots from the evening. What I wore will be posted later!
If any DC ladies are around tonight you should totally go to the
G.L.A.M.
event! Almost all of these lovely ladies will be there along with some great shopping, fun times, and a really great cause!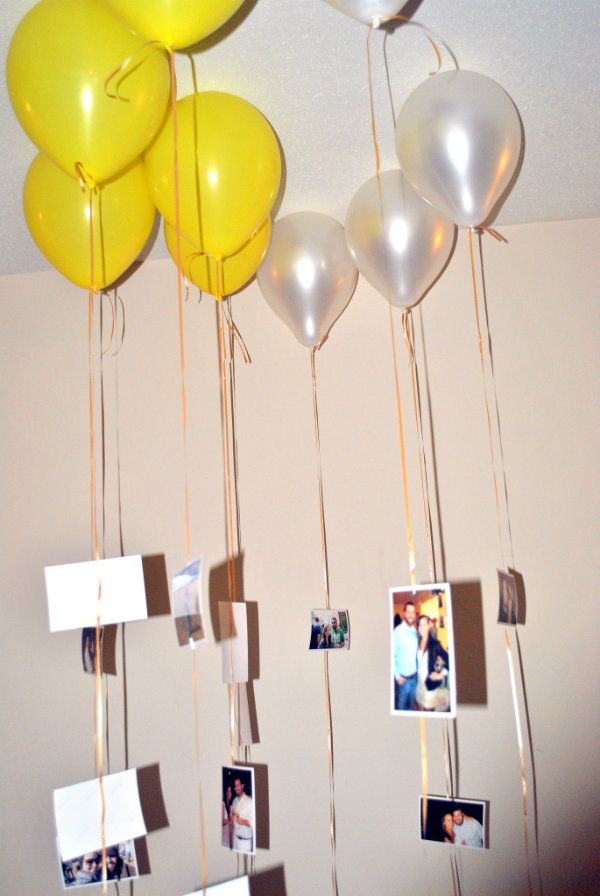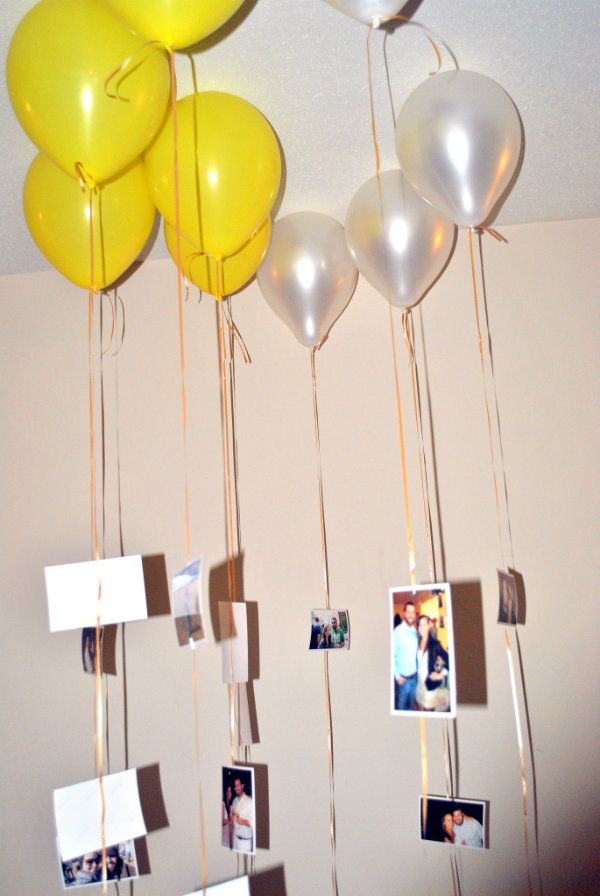 I saw
this
on Pinterest and just knew I was going to have to incorporate it into the bridal shower I was planning for one of of my best friends in some way. To me, there is just something that feels really magical about having some of the best little captured moments in your life floating all around you. If I were to do the project over again, for those of you who may be considering it, I would get the extra large balloons (the regular size ones were only able to hold one or two photos, max) and and I would double the amount of balloons. The more mid-air photos, the better.
So much birthday celebrating, Yankee cheering, beer drinking, giant cookie eating, delicious snack indulging, and laughing into the wee hours of the night with good friends happened this weekend that it made for the official "Neon-Sunday" here at our place. I slept in, went to the pool, slept at the pool, then parked it on the couch as I caught up on TRHOC. I threw on every neon thing I owned to help keep me alive for at least part of the day. It's easier to stay awake whilst wearing blindingly bright colors (and "Neon-Sunday" just sounds better than "Hangover-Sunday" don't ya think?).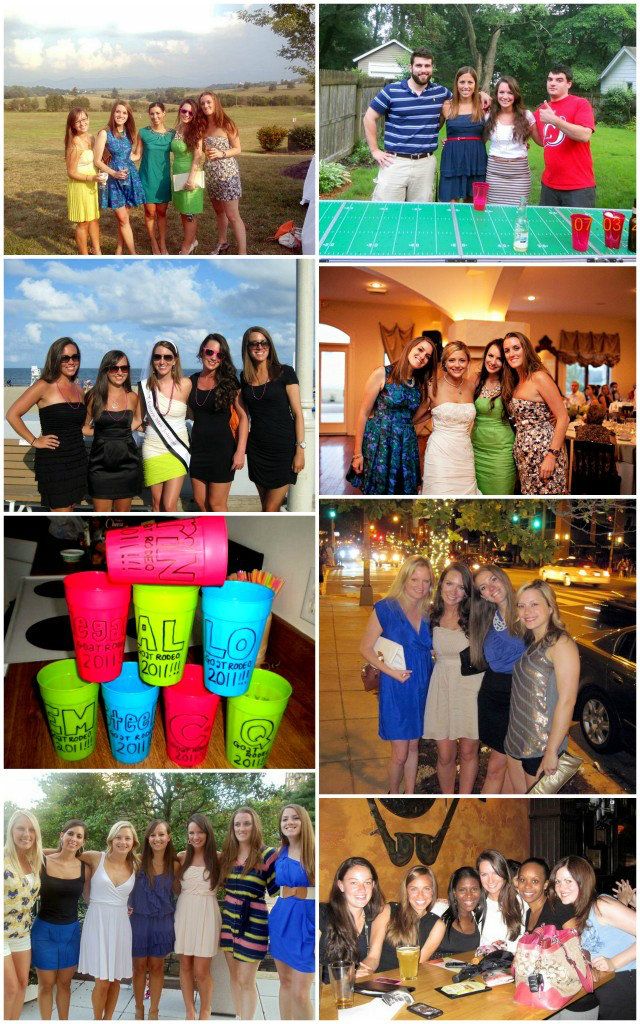 Warning: This one's kinda serious, peeps. And it's long which I know is a blogger no-no, but today is my birthday and I'm breaking the rules (I wont judge you if you skip right to the pictures).
Sometimes I look in the mirror and am surprised by who I see looking back at me. I honestly feel the same as I did when I was 19, so when I see tired eyes, tiny lines that were not there before when I smile, and a few grays sprouting up (Honestly, WTF?) I get startled. I know it sounds crazy, but I just assumed I would stay young and beautiful forever...don't you guys?
Today is my 26th birthday, which even as I type this gives me a pang of "ummm...why did you just admit that on the internet..." It's one that I have mixed emotions about for many reasons, which mainly consist of the following:
1. I totally feel like by 26 you're in your "upper twenties" and should have yo shiz together (and I don't as far as husbands, home-ownership, career choices, and babies go).
2. My body seems to be aging behind my back, which is totally uncool (basically I just don't want to get older in general, duh).
3. Sometimes I have meltdowns where I begin to reminisce about my glory days, convince myself that I've already "peaked," then cry as I slather 13 kinds of wrinkle cream all over my face.
4. It's been really hard trying to figure out how to accept that it's all okay and life is still fabulous. When I sit back and think about it, nothing is changing all that drastically, and I'm still me.
I'm still going to make silly nicknames for everyone and everything, talk in weird voices at my pets, try to prank Mike on a daily basis (he got me good twice this week but he WILL pay), jam out to Britney Spears while I'm getting ready for a night out, do tequila shots when I know I shouldn't, worry more about the outfits I have planned for a trip more than the actual trip, keep my hair long, spend way too much on shoes when I should probably put it into my 401k or some crap, dress up for Halloween, cry to my boyfriend when I get lost, have dance parties at every chance I get, and eat leftover cupcakes for breakfast sometimes. That's just me, that won't change, and it's okay.
25 was a good year. It was the year in which I started this blog. I kicked it off right with good friends and Mexican food, and the rest of the time was filled with trips to the beach, bachelorette parites, sibling beer pong on the 4th of July, bridal showers, trips to NY, 25th anniversaries, animal costumes and animals in costumes, visits from family, old friends moving close by, Vegas, a couple friends got hitched, and I met some great people though this here blog. Below are some of my favorite moments from 25. 26 has a hard act to follow, but I'm hopeful that it will come up with some fabulous surprises.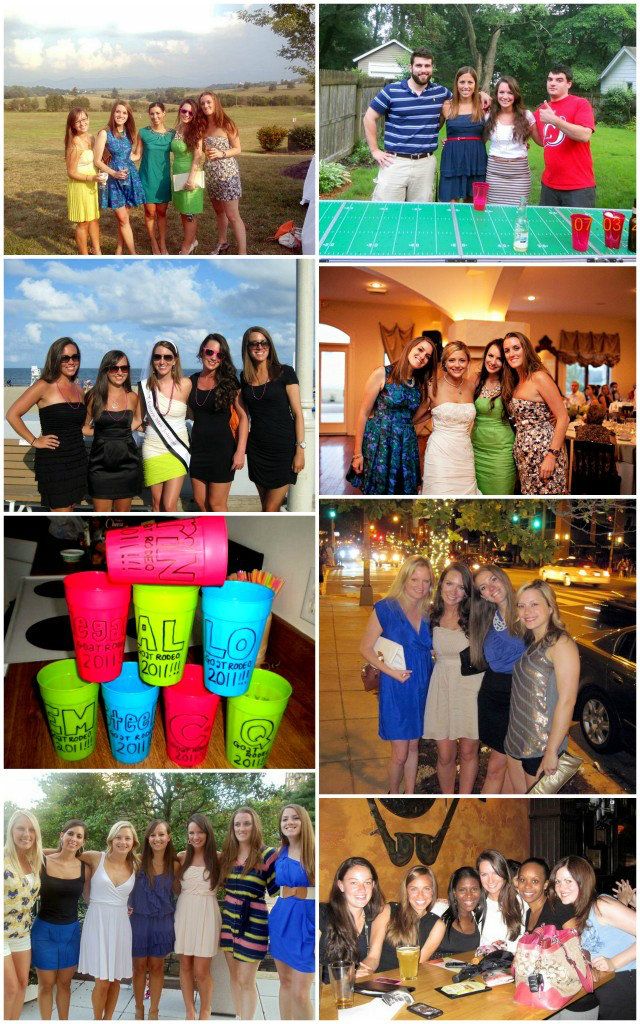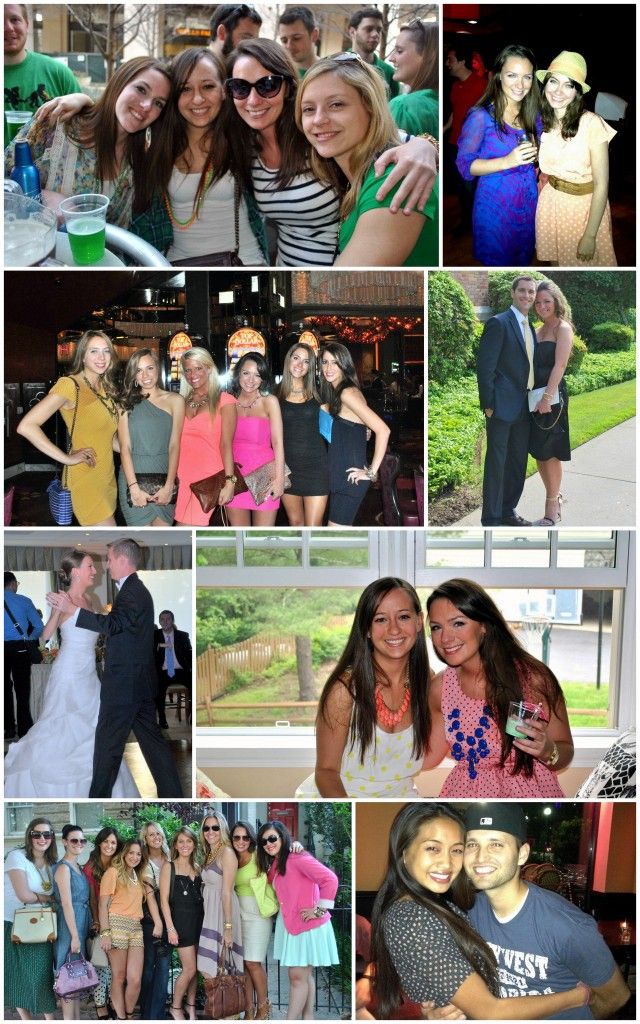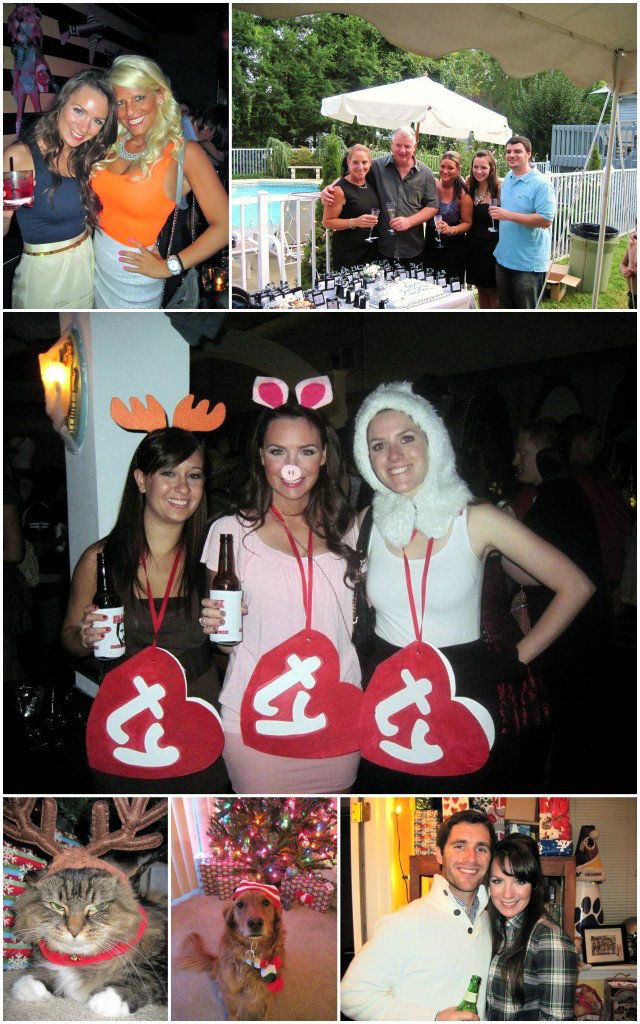 The deets: J.Crew blouse and skirt; Lancome "Midnight Rose" lipstick; Betsy Johnson necklace; Enzo Angiolini shoes; Essie "Lapis of Luxury" nails.
I swore these photos would never see the light of day but I am tired, and already have been pretty slack-tastic this week with posts, so here they are...wrinkles in my skirt and all. Go ahead and judge, I give you permission. I actually wore this to work like a month ago or so but I just wasn't feeling the pictures of it (ooobviously) so I never posted them. Now that I am delirious with fatigue it seems like a fine idea. Seriously it's before 11 and feels like it's 3AM right now. It appears as though I've moved into the old lady time zone a bit prematurely. Come to think of it, Mike thinks this top makes me look like an old lady, so maybe it's perfect. Am I making sense right now? Night night.
Also I seem to be slightly obsessed with this color combo also seen
here
. Cheers.
Hey peeps. So many of you asked/commented about my hair style in
this
post that I thought it would be a good idea to do a little tutorial. It's easy peasy lemon squeezy. Tell me what you think or send me some pics of your new hair-do's!
Wedding season is in full swing and the one I attended this past weekend was probably one of the most fancy/fun ones I've ever been to. It was an elegant affair, so I opted for classic black silk paired with fun shoes to balance the simplicity of the dress (although there was so much dancing going on, said fun shoes didn't stand a chance against the rainbows I was hiding under the table).
One of my bests friends birthdays just past and of course I volunteered for cupcake duty. Her favorite cocktail is pineapple juice and Malibu rum, and I like to personalize as much as I can whenever baking for someone I love, so I thought why not make this into a cupcake flavor? I decided on making it two ways, as the flower toppers can be extremely time consuming and may not be the best option for all. I also decided on using boxed cake as a base to save some time.
For the cupcakes
1 box of Duncan Hines pineapple upside down cake mix
Bake according to box instructions. I substituted out the water it called for with fresh pineapple juice
and also added about 1/4th cup crushed pineapples for a tiny bit of texture
For the coconut icing
1 package cream cheese
1 stick butter
3.5 cups powdered sugar
1/2 teaspoon coconut Extract
1/2 cup sweetened coconut flakes
Cream cream cheese and butter together and add in one cup of sugar in at a time. Add extract, and coconut flakes until smooth.
I also toasted the rest of the bag of coconut flakes as a topping. Just pour into pan at medium heat and toast until lightly browned.
For the dried pineapple flowers I followed
this
Martha Stewart recipe exactly. Warning: they are VERY time consuming but so cute! I added a dollop of red icing to complete the flower. Your other option would be to just place a piece of pineapple on top of the toasted coconut flakes.
***Also for DC locals I am now open for business! Prices are on the left under "Buy."***
The deets: Essie "No Boundaries" and Milani Jewel FX in "GEMS"
The most recent trend to hit the nail scene (I know, there's such a thing as a "nail scene?" what?) is having one metallic/sparkly/bedazzled nail and I have fallen DEEPLY in love with it. My most recent combo and probably my favorite thus far is this one. The little pink flecks on my ring finger that perfectly match the other matte nails really just makes my day. I couldn't stop staring at my ring finger..this must be exactly what its like to get engaged (okay maybe not...).